We are going to talk about how to use Asana to organize a business, but before then let's talk about what happens in our daily lives. We all probably have, at some point in time, struggled to organize different tasks in our day-to-day activities. It may have been in our small businesses, blogs, vlogs, or just about anything that we work on.
Sometimes, our job or tasks might be so complex that we lose track of exactly what we are supposed to do and how to do it. When you are not on top of a situation, there is the likelihood that you procrastinate. You then come to realize that you are not as productive as you would want to be.
Well, these days you no longer have to go through all that stress of handling tasks all by yourself. Today, business owners and project managers now have an array of online project management tools to boost productivity.
In 2020, the need for these digital tools increased. As a result of the global pandemic, businesses and organizations sought digital tools that allow colleagues to collaborate without physically coming together.
Meanwhile, businesses, which initially didn't have an online presence of any sort, turned to digital solutions firms like Iconic Digital World for creative website development and corporate branding.
Digital tools have since been in existence, but the pandemic brought about a massive new interest and adoption of these tools.
One such productivity tool is Asana. Given its level of efficiency, so many business owners have learnt and are still learning how to use Asana.
Asana as a productivity tool
What is Asana?
Asana is a productivity tool for task management that enables businesses and organizations to manage their tasks and projects, connect, collaborate, and coordinate them. Asana is uniquely designed to manage several projects at once and is ideal for enterprises of any scale.
Asana is a tool specialized in the control of workflows. It is versatile and elegant and you can bend it to your will for the management of tasks and projects. Asana helps teams, businesses and even large organizations, like Google, Spotify, Harvard University, execute tasks and projects efficiently, and tools like Asana are already changing how we work.
Why Asana?
Asana is one heck of a productivity tool. It is great for teams working remotely. It also has a smartphone app that supports both Android and iOS operating systems. So, you can easily learn how to use Asana irrespective of the operating system you use.
Asana has integration options which work well. You would not have to bother about abandoning the tools you are already using. Asana can be integrated with Google Mail, Google Drive, Google Notes, Calendar, Dropbox, Adobe Creative Cloud, etc. With that, you can easily track your work and quickly get the results you want. It is really easy to understand how to use Asana.
There are other productivity tools similar to Asana such as Trello, Wrike, Jira, Teamwork and Basecamp. However, Asana has a good edge over them all.
Asana compared with other alternatives
Trello vs Asana: Unlike Asana that supports large businesses, Trello is not a great tool for very big companies. Trello's plans are only cool for smaller and medium-sized enterprises.
Asana vs Wrike: While Wrike is popular and has a good user interface, this productivity tool doesn't offer a free plan beyond their two-week trial period, which means that smaller teams and/or teams who are on a budget will have to look elsewhere. But Asana provides teams with a free plan, which has plenty of features and resources to enhance productivity.
Asana vs Jira: There is Jira, which has very cheap paid plans but zero free plan. And while Jira is not quite easy to learn if you are just starting with project management tools, you will not need to spend too much time in learning how to use Asana.
Asana vs Teamwork: Then you have Teamwork, which is easy to use and has quality plans. The ease with which you learn how to use Asana is the same with learning about Teamwork. But with Teamwork, the iOS app is lacking. While the poor iOS app may not be too much of an issue (statistics have shown that the number of Android users worldwide is triple that of iOS users), a member of your team will likely want to make use of an iOS app. What happens then?
Asana vs Basecamp: Basecamp, like Asana, has superb features for project management. But Asana has the edge over Basecamp in that it is best for large companies. Basecamp is only great for small scale businesses.
Asana's cheaper and diverse pricing plan options, integration options, quality Android and iOS apps and a polished user interface make it the one-for-all, go-to productivity tool for businesses and organizations of any scale, and that includes startups.
Asana has a free plan for startups. But there are also paid plans which offer great value for money as well. Knowing how to use Asana means you will be able to easily upgrade from one plan to another.
Asana's pricing plans
Here is an analysis of the various pricing options available. Consider this before we move on to how to use Asana.
Asana has four pricing plans, which are;
Basic
Premium
Business
Enterprise
Basic Plan
The Basic option is free and for people or teams who have just begun project management. While there are restrictions on some features like the Gnatt chart in this free option, there are also plenty of cool, essential task management features you can use.
You can create unlimited tasks, unlimited projects, have over a hundred free integrations with your favourite apps, and collaborate with up to 15 teammates as well. There is also unlimited file storage (100MB per file).
You can try this free plan for a few months before going a notch higher to a paid plan.
Premium Plan
Asana's Premium option costs US$13.49 per user which is billed monthly, or, you can pay US$10.99 per user, per month but billed annually, which helps you to save more. The premium option is for teams that need to confidently create project plans.
With this plan, you can follow up on team projects with features such as timeline, dashboard, advanced search and reporting. It also offers privacy for teams and projects.
Business Plan
Next is the Business plan which costs US$ 30.49 per user, per month. You can, however, save money by paying US$24.99 per user, per month, which will be billed annually. The business plan is suited for teams and organizations that need to manage work across initiatives.
This plan has all the features of the premium plan plus superb features and resources to work with such as portfolios, custom rules builder, forms branching and customization, advanced integration with Salesforce, Adobe Creative Cloud, Tableau, Power Bi. With the custom rules builder, you can automate everything. If, for example, you change a due date, the leader of the team will be automatically added to the assigned task as a follower.
This plan is ideal for large organizations that operate several projects at the same time.
Enterprise Plan
The Enterprise plan is for companies that need extra security, control and support. This plan has everything the business plan has plus features such as data export and deletion, user provisioning and de-provisioning (SCIM), block native integrations, and attachment controls. You will, however, have to contact Asana's sales department for a quotation.
You can learn more and see more exciting features on all four of Asana's pricing options here.
How to organize your business using Asana
So, we are down to how to use Asana to organize your business.
If you have decided to organize your business with Asana, you have certainly made a solid choice. If you are new to using an online productivity tool, you will see terms such as lists, boards, tasks, subtasks, and all. Well, you do not have to worry, as this article is going to explain all of that, tell you how to use Asana, and make it easier for you to work your way around the system effectively.
1. Basics of Asana
Before getting on with how to use Asana, here are some of the basics you should know:
a) Tasks: With Asana, you can split whatever work you have into tasks and manage those tasks efficiently. Those tasks can be further broken into smaller units known as subtasks, which should help you to easily complete tasks.
You can assign tasks to different individuals on your team and also assign due dates and time for the completion of delegated tasks. Interestingly, you can view all your tasks on the Asana calendar. You probably have individuals from different parts of the world on your team, so specifying the due time helps everyone, irrespective of the time zone, to not miss deadlines. In knowing how to use Asana, tasks are of central importance.
b) Projects: With Asana, projects can be organized and shared as lists or boards to keep track of all your meetings and programs.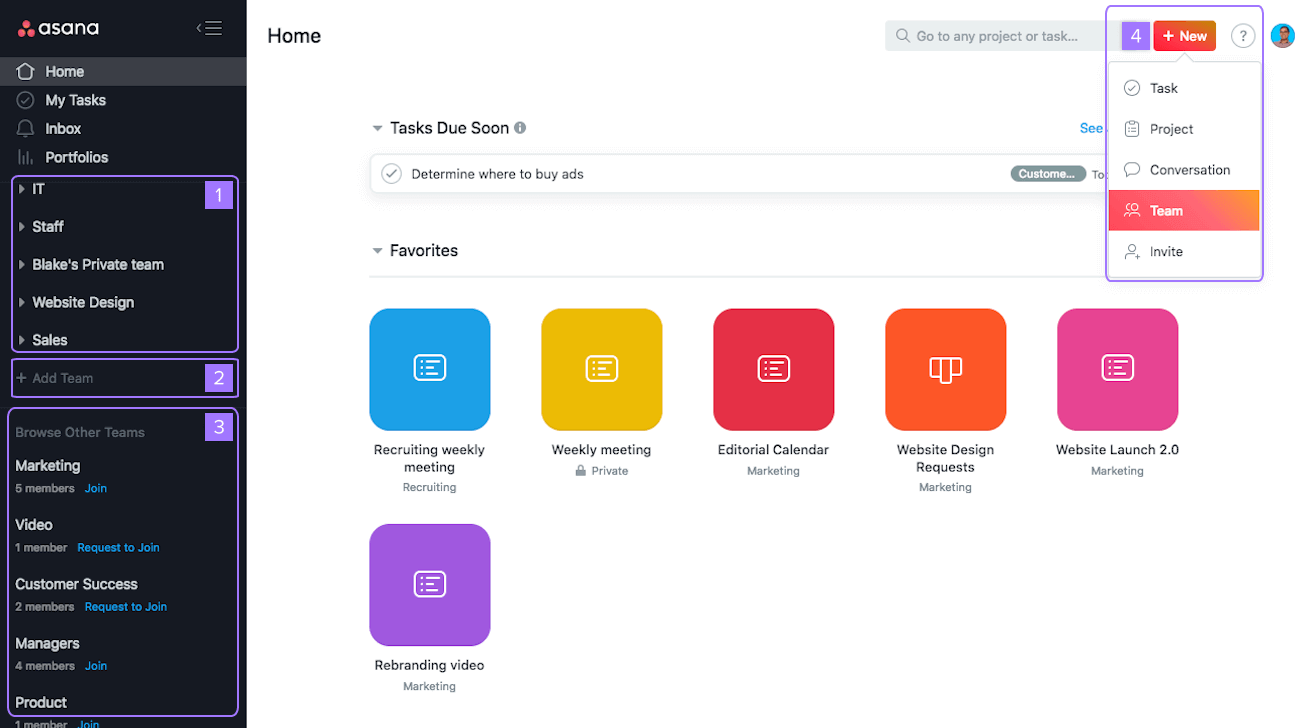 c) Sections and Columns: It is important that your tasks are kept organized and workflow strategy is maintained. These are crucial for increased productivity. Creating sections and columns allows you to group your tasks into separate sections or columns on board. That ensures a proper organization.
d) Attachments: Simply add files from your computers, Dropbox, Google Drive, etc. Files with relevant information can be attached to a task. The information could aid in the completion of a task.
e) Rules: Manual processes such as delegating tasks can be automated by creating rules in Asana.
2. Creating Tasks
At the start, tasks are the fundamental unit of action in Asana. Understanding tasks is essential in knowing how to use Asana. In Asana, you can create new tasks, recreate an existing task, combine two tasks, print and even delete tasks.
To create a task, simply type the task in a list in the main pane or use the Asana shortcut 'Quick Add'. Another way to create a task is by sending a message from any email address that is linked to your account.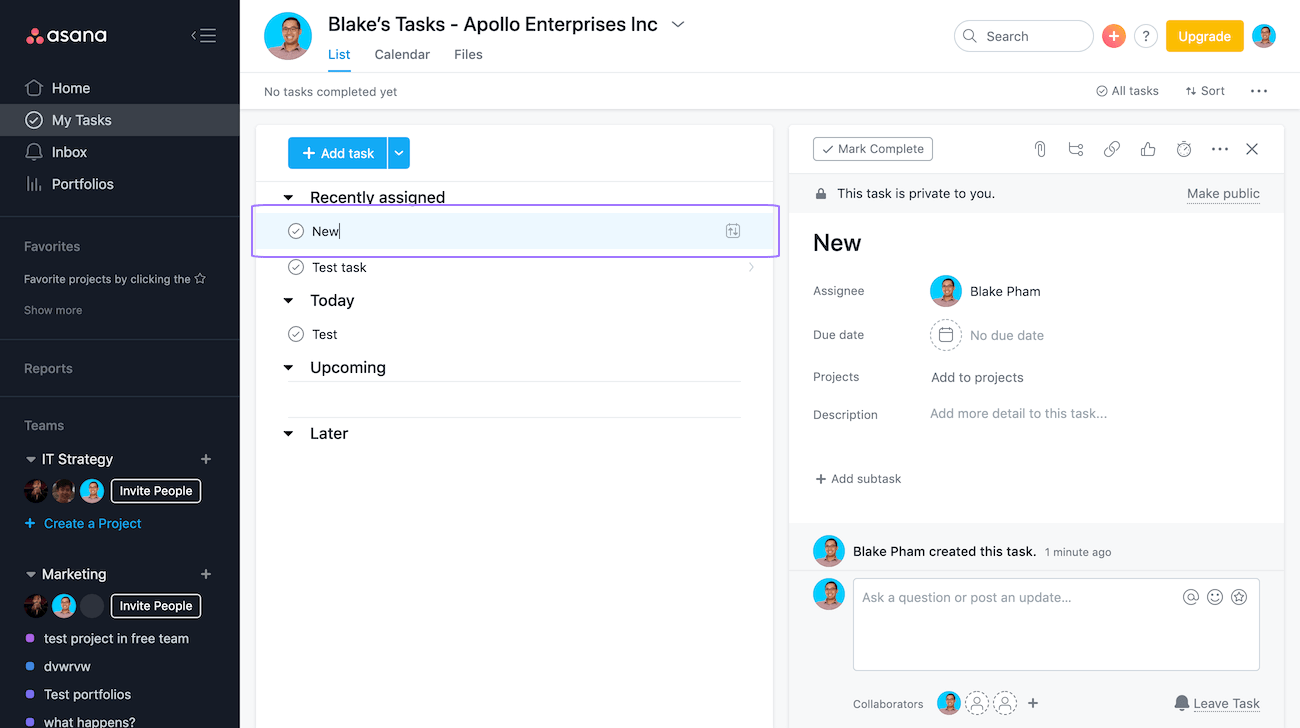 If you do not name the task, it will automatically delete itself.
3. Delegating Tasks
After creating a task, you are going to have to assign that task to a team member. A due date will also be set, so the assignee can receive reminder notifications as the due date draws near.
To assign a task, go to the right pane and click the assignee field. Type in the individual's name or email address. If you want to unassign a task, simply go to the assignee field and click the X icon displayed.
Asana also allows you to create the same task for more than one person. So you can delegate multiple tasks to an entire team.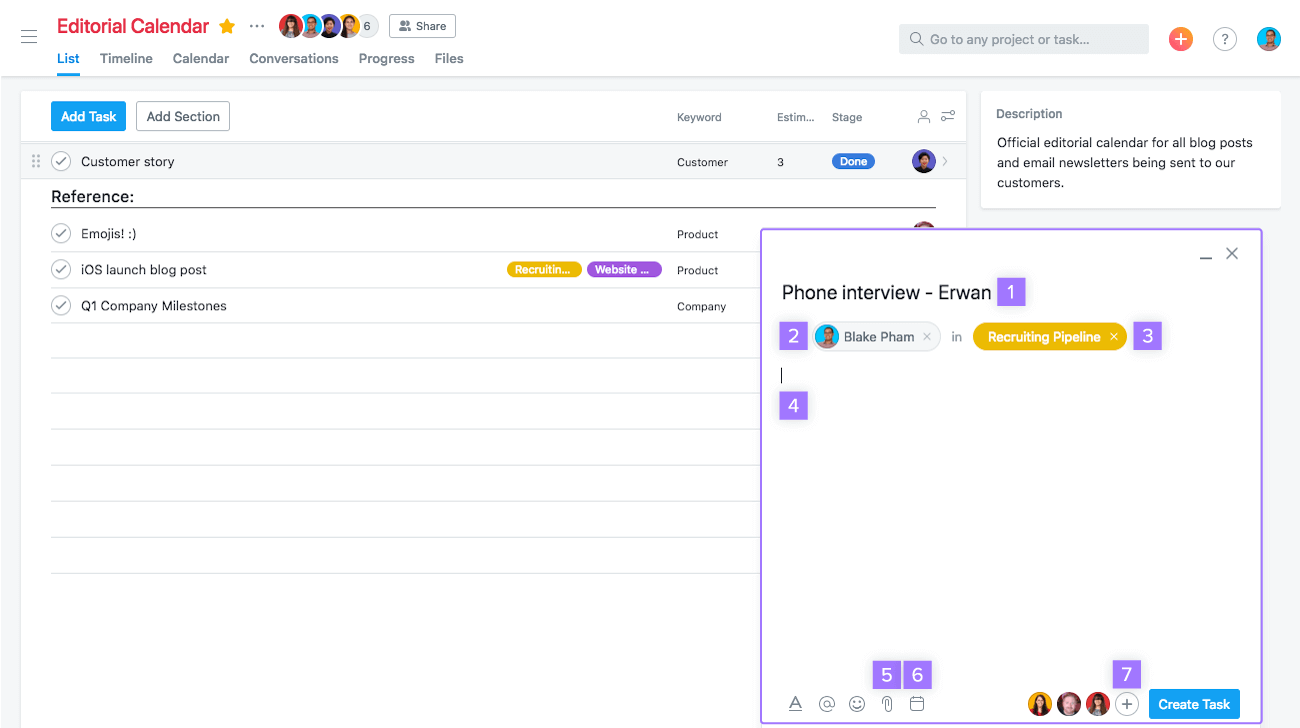 To do that, simply go to the right pane and click the assignee field, choose the assign duplicate tasks from the drop-down menu, and, from the list, select who you want to assign a duplicate to.
4. Workflow templates
In understanding how to use Asana, the knowledge of workflow is important.
In a business organization, setting up workflow is essential. When it comes to managing a business or polishing your knowledge on how to use Asana effectively, it is important to know how to have workflows set up. Because by simply following an established sequence of tasks, you will save time; whether you operate on your own or within a team.
Asana allows you to set up workflows using its project list view and Board view. First, create a new project, then select the list view and include your workflow tasks.
You can separate them into sections or further break down your tasks into subtasks.
Begin by creating a new project for the board view and add columns for each phase of your workflow. When one stage of your workflow is completed by a job, simply slide it to the next one.
Be sure to set these up as templates so that you can repeatedly follow the same procedure.
5. Managing Projects
So you've got a project and have already created tasks and delegated work to team members. For efficiency, it is important to stay on top of the work and it is easy to learn how to use Asana for that.
Knowing how to use Asana helps you utilize several resources to manage projects effectively.
You can receive a news feed of updates to tasks that you are keeping track of via an inbox feature. This gives you easy access to respond or navigate key tasks.
Asana has a sort and filter option that allows you to see tasks in order of priority as well as status. You can also see progress across different tasks.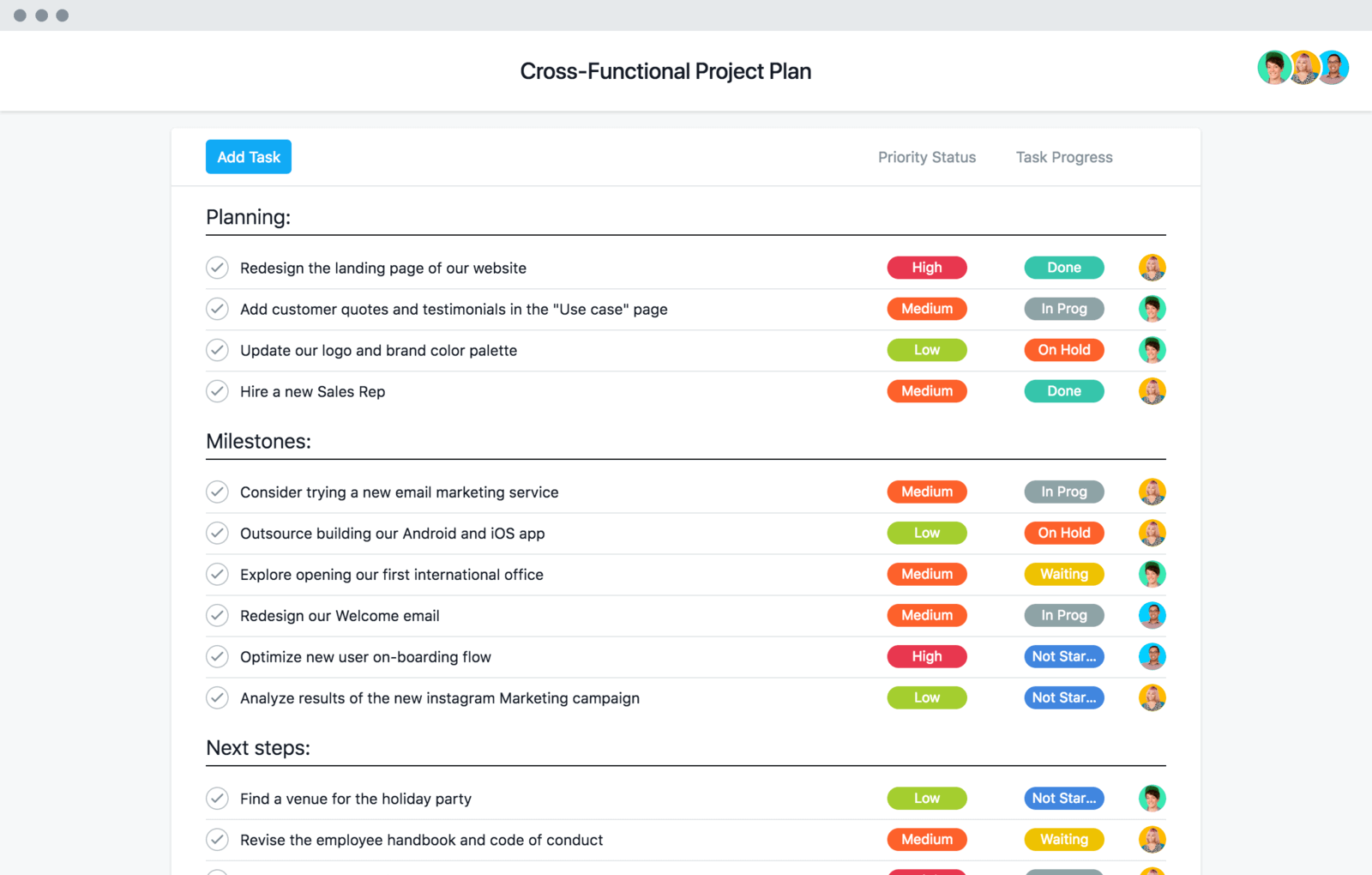 Also, with Asana's progress section, you can get a snapshot of the overall status of your project.
Knowing how to use Asana helps you to avoid the stress of scheduling meeetings on a regular basis because with Asana, you will be allowed to check your milestones, view status updates, review your custom fields and create updates that disseminate information to the entire team.
6. Communication
A lecture on how to use Asana isn't complete without a note on communication. Now, aside from being an organizational tool, Asana is one of the best applications for team communication and collaboration. Effective communication is one key component of Asana as it keeps everyone in the team in the loop.
Here are a few ways to communicate effectively on Asana:
Proofing: Through the use of task comments on images or PDF, you can offer useful reviews.
Languages: Does multilingualism excite you? Well, teammates can communicate in diverse languages such as French, Spanish, Japanese, English and German.
Status Updates: Updates on projects can be shared with the interested parties and portfolios can be created with the relevant data.
7. Keep track of trends
Understanding how to use Asana doesn't just centre around tasks, projects and communication only. Asana has other useful abilities.
Business analytics is used by many businesses to interpret patterns, outcomes, and even problems within business models. However, it may prove challenging for startups to make these connections, seeing as small businesses most times do not have access to big data tools.
But Asana's impressive ability to keep track of details in projects enables you to make a note of some of the trends in your business models.
By knowing how to use Asana, you will be able to predict just how long projects will take, which team member is having a difficult or easy time with a particular task and how often a customer is going to require your services.
With Asana, these patterns, no matter how many, appear easy to track, as it offers the data for you to follow up on trends.
In conclusion, the goal of every startup is to be successful. Irrespective of the size of your business, the importance of having tasks and projects outlined and streamlined cannot be overemphasized. It is therefore important to learn how to use Asana properly, as it is that digital tool that will help you organize your business effectively.
Looking to maximize your online presence in 2021? Iconic Digital World is the right place to be. Talk to one of our team members or get a no obligation instant quote or pricing now.